Autumn is here and this is the season of love while wind breezes. Did you feel annoyed planning your dating schedule? How can you plan a romantic and also surprising Halloween for the ones you love?
空氣中彌漫着秋天的氣息,又是一個戀人的季節。每逢節日,最令人頭痛不巳的莫過於計劃約會行程。在這個十月時分,如何與另一半共渡一個浪漫又不失驚喜的萬聖節呢?
Amusement park definitely is a good place for being romantic with your lover. Disney Haunted Halloween should be your first choice. Scary scene will be moved to the outdoors. Three different themes are prepared for you to go. The ghostly spirits will walk around the gates of Mystic Point and the couples can take pictures with them. The haunted Grizzly Gulch is waiting for you in another side with miners and cowboys. Couples can watch the puppet show and the action scenes from the actions. In the Jungle River Cruise, couples can follow the navigator and he may harm you due to his greed towards the Emerald Trinity.
說起浪漫,主題公園是不可缺少的。今年十月,香港迪士樂園拋棄一貫的室內鬼屋,改以戶外驚魂作賣點,為眾人打造三個不同的詭異方式園區。一堆被困的白色亡靈從迷離大宅中重生,遊㪚在迷離莊園的各個地方,情侶不但可跟他們拍照,也可跟隨一起輪迴。繼以再踏進「詭迷灰熊山谷」西部牛仔及礦工的廝殺,火車司機以布偶劇述說起死回生的傳說,一眾演員表現一幕幕驚心動魂的動作埸面。最後,跟隨領航員,登船深入全新森林河流,尋找遺失的三塊綠色咒石,探險航道比以往長,踏上叢林不歸路。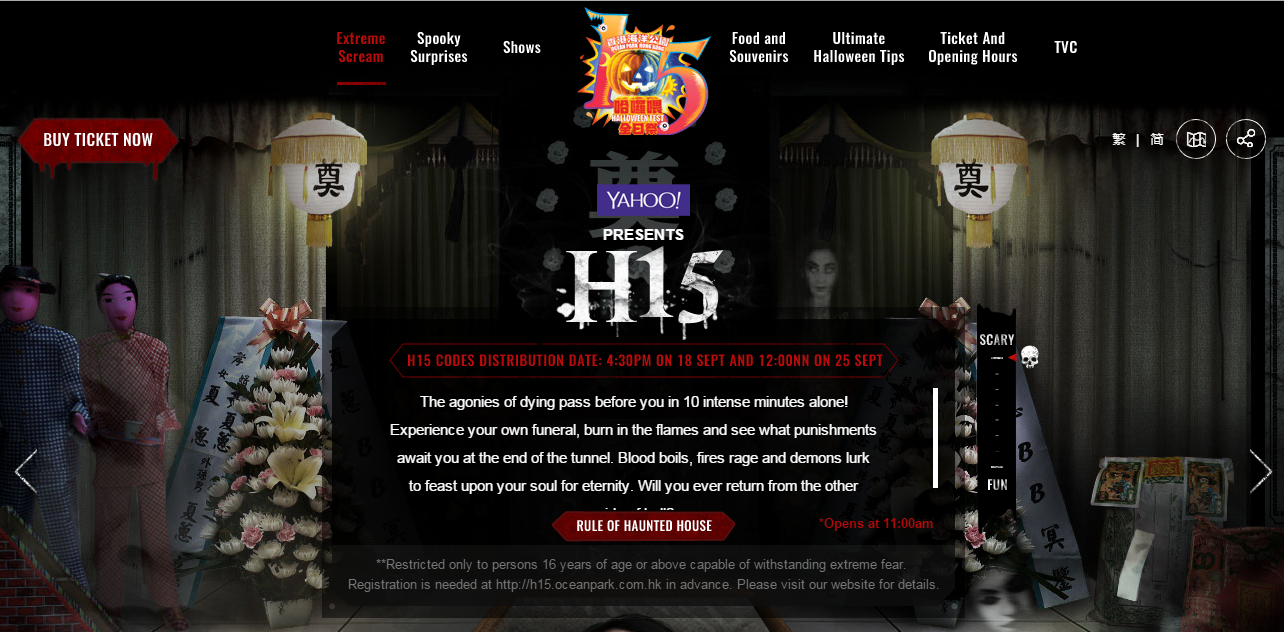 Ocean Park provide a more scary and creepy experience if you think you are brave. Blood boils, fires rage and demons lurk to feast upon your soul for eternity in "H15". Eight haunted houses can be found inside with different themes. If you are not ready for this, Doraemon photo shooting studio and Trick or Treat should be the activities you may like. Get your candies and share with your sweetheart.
若嫌不夠刺激,大可以到海洋公園過「頭七」,全新驚嚇指數爆登的「H15」,參加者需獨自睡在靈床上,經歷滾滾血池及勾脷筋刑場等地府恐怖場景。全園一共八個鬼屋,供大膽情侶闖關。今年樂園更設置不少開心萬聖景點,例如多啦A夢哈囉喂影城,方便情侶拍照。萬聖節的Trick or Treat也是不可錯過的,園區內的全港最長室外糖果之旅,一起牽手挑戰不同的小遊戲,贏取繽粉的糖果、餅乾及朱古力吧!
Other than the exciting ones, mild shopping can be one of the choices. Halloween Town in Kwun Tong have different latest products for you to choose for each other as presents. The market is decorated as cursed town and attic haunted house. Keep an eye on your back when you are shopping in here! To ensure your safety, you can request for a "Eye of Horus" from the staffs and stick on your body. Shopping to a certain amount can be given some scars tattoo stickers. It can be described as the fusion of arts, festivals and creative market.
除了兩大主題公園,較文靜的情侶可到觀塘Halloween Town市集逛街購物,搞搞新意思!市集被佈置成小鎮及閣樓鬼屋,在購物的時候小心會有鬼怪從後「襲擊」!較膽小的可以向工作人員索取一張Eye of Horus靈符,確保安全遊市集。購物一定金頞會送贈不同的疤痕紋身貼,可謂將藝術、節日及創意市集所融合。
Lasermads in Causeway Bay can let the sporty ones to get tired. Minimal and dark arena designed in the form of a maze, with advanced and award winning equipment and system. Lasermads provides a laser gun in purpose of attacking zombies. Experience the mood of Star Wars with other pairs of couples and encounter a blood-racing halloween! Watch out of being shooted by the zombies or else you gonna be one of them!
而想在萬聖節出一身汗的則可到佔地2800呎的銅鑼灣Lasermads,穿上戰衣,拿起鐳射槍就可以開始追擊喪屍。 射擊分數會在你的電子手錶上呈現,加上夜光背心感應裝備,最宜相約其他朋友情侶一起投入星球大戰,過一個血脈沸騰的萬聖節!設記小心被喪屍射到,否則你就會變成它們的一份子了呢!
Different small functions will be held in different malls. You should have no difficulties for planning this Halloween, right?
此外,不少商場亦有不同大小規模的相應萬聖節活動,今年萬聖節拍拖再沒難度吧?